About Yorktown Animal Hospital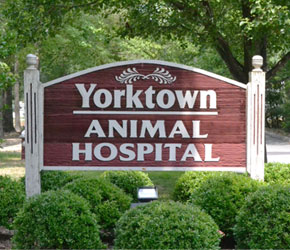 At Yorktown Animal Hospital, we believe that by working with you as a pet owner, we can fulfill our shared responsibility to improve the quality of your pet's life. Our friendly, knowledgeable veterinary team is dedicated to providing pets with high quality, compassionate care using preventive medicine. Located on Ft. Eustis Boulevard, five minutes from I-64, we see pets from Yorktown, Newport News, York County, Williamsburg, Poquoson, and James City County.
Our History
Yorktown Animal Hospital was founded in 1994 by Dr. Charles Wolfe near the historic town of Yorktown, Virginia. Since our inception, our mission has been to not only care for pets but make their owners comfortable with each visit to our hospital. Our doctors and the rest of our professional, compassionate staff work as a team to help you with all your pet's needs.
What Sets Us Apart
Dr. Wolfe and the Yorktown Animal Hospital team are centered on pet care as well as client communication. Each patient has unique needs, which is why we spend as much time as necessary to ensure that you understand your pet's condition, treatment recommendations, and possible outcomes. During your pet's visit, we can provide information on vaccinations, preventative health care, and more to benefit your furry loved one throughout their lifetime. If your pet has to spend time in our clinic, whether for hospitalization for medical treatment or boarding for a few days, you can be sure their comfort is our top priority.
If you have questions about our services, pet emergencies, or our team, you can find answers here on our website. Whether your pet is a new or current patient, we look forward to providing them with professional, affordable health care throughout their lives! Contact us today to schedule an appointment!


Exceptional care and exceptional staff. We have been coming for years and couldn't be paid to go elsewhere!!!
- Helen K.
"I have no complaints, Ron and I would never go anywhere else!! Happy says HI"
- Ron and Pat B.
"YAH has been our trusted source of veterinary care since they opened, and will continue to be."
- Alice T.
"The whole team goes above and beyond to take care of our dogs."
-Renee and John A.
"As always excellent service."
- Helen K.
"Couldn't make it better... it was awesome... everyone treats my Otis (and Koda) and their worried Mommy with great love and care :)"
- Tina S.
"10 out 10"
- Shawna N.
"Great care and friendly service."
- David R.